Biography
Bola Tinubu Biography, Age, Net Worth, Children, Family, Hotel, and Quick Facts
of the Asiwaju of Lagos and that of the Jagaban of the Borgu Kingdom in the Northern Niger State of Nigeria.
Biography, Age
Born on 29 March 1952 in Lagos to the illustrious Tinubu family. Bola Tinubu attended St. John's Primary School, Aroloya, Lagos and Children's Home School in Ibadan before he traveled to the United States in 1975, where he had his secondary education at Richard J. Daley College Chicago, Illinois. After which he gained admission into the Chicago State University where he graduated with a Bachelor of Science degree in Accounting in 1979.
After graduation, Bola Tinubu worked with Arthur Andersen, Deloitte, Haskins & Sells, and GTE Services Corporation, all in the United States of America. In 1983, he returned to Nigeria and worked with Mobil Oil Nigeria, where he rose to the position of an executive in the company.
Bola's journey into politics began in 1992 when he contested and won the seat of a senator of the Federal Republic of Nigeria, representing the Lagos West constituency.
After the annulment of the June 12, 1993 election, Bola Tinubu founded National Democratic Coalition (NADECO) with some other Nigerians, a group that advocated for the restoration of democracy and recognition of the 12 June results. In the year 1994, Bola Tinubu went into exile and later came back in the year 1998 when Sani Abacha had died.
Bola Tinubu contested for the position of the governor of Lagos State in the year 1999 and was elected in the platform of Alliance for Democracy (AD). In April 2003, after the expiration of his first term in office, he was re-elected for a second term.
He was involved in a struggle with the Federal government over whether Lagos State had the right to create new Local Council Development Areas (LCDAs) to meet the needs of its large population. The controversy led to the Federal government seizing funds meant for local councils in the state.
In 2007, Bola Tinubu was brought before the Code of Conduct Tribunal for trial over alleged illegal operation of 16 separate foreign accounts. Two years later, he and Governors James Ibori of Delta State and Obong Victor Attah of Akwa Ibom State were cleared of charges by the Economic and Financial Crimes Commission (EFCC).
Bola Tinubu is currently the National Leader of the All Progressive Congress (APC) party with president Gen Muhammadu Buhari (rtd).
Children, Family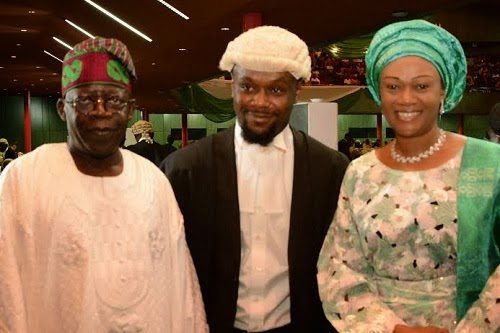 Bola Ahmed Tinubu is married to Oluremi Tinubu, a Senator of central Lagos State. A woman described and well know by her good taste immense respect for the people of Lagos and her husband.
They have three children together – Oluwaseyi Tinubu, Abibat Tinubu and Folashade Tinubu-Ojo. His youngest daughter, Abibat Tinubu, graduated from a Music college in Boston, Massachusetts, USA in 2013. His mother, Chief Abibatu Mogaji died on June 15th, 2014 at the age of 96.  She was a businesswoman and the president-General, Association of Nigerian Market Women and Men. He also lost his son Jide Tinubu to cardiac arrest in London on 31st October.
Networth
Nigerian leaders and top government personnel are billionaires and Bola Tinubu is not any different.  With many expensive properties and investments that are worth billions of Naira linked to him the APC leader is allegedly the richest Lagos state politician currently. According to reports, his properties include; prime land of 157 hectares with 2.5km of Atlantic beachfront valued at about N10 billion, 14 hectares Parkview Ikoyi Estate foreshore land reclaimed by Lagos State Government, the annex of the Lagos State Guest House in Asokoro, Abuja, which the state Government purchased in 2006 for N450 million, a 5-bedroom detached house on one acre of land valued at N450 million, his home at Boudillon worth over N1 billion and  250-hectares of land located at Ajah junction on Leki road and estimated at 35 billion naira. He is also said to own a 1,000 hectares of land located at Lakowe close to Abijo at Ibeju-Lekki Local Government Area and valued at about N75 billion. Another property belonging to him is a Fishery Landing Jetty in Badore, the Ogudu Foreshore Scheme worth N15 billion naira.
Worthy of note is the fact that some of the properties were said to originally meant for development of the public by Lagos State government but were converted by him.
He is allegedly the owner of Oando Oil Company which is managed by his blood brother. The company is said to be the largest oil production company in Nigeria with equity of N162 billion and a revenue of N449 million.
He also owns several costly private jets with the most exquisite known as Bombardier Global Express XRS. The jet is estimated at 60 million dollars. Tinubu also owns luxury cars including a G-Wagon worth N600 million, built with bomb detector apparatus, surveillance camera and bulletproof. He also owns TVC Radio Continental.
These along with his shares and interests in hundreds of other businesses, Tinubu's net worth is estimated at $2.7 billion ( something that amounts to trillions of Nigerian currency). He is also known to have one of the strongest connections in the country, one of the reasons EFCC has never investigated him.
Hotel
Asiwaju Bola Tinubu is rumored to own different real estate properties worth billions of Naira. One of such massive investments includes Oriental Hotel located along Admiralty Way, Victoria Island. The hotel has the best facilities for a luxury traveler and as expected commands one of the highest room rates with the president suite going for more than  400 hundred Naira a night. The cheapest room in the 5-star hotel is estimated at sixty thousand Naira per night. The rooms are furnished in an extremely beautiful manner. Also, each of the rooms ( which ranges from size 60 to 300 square meters) provides stunning views of the lagoon. It is said to worth N120 billion alongside his The Choice property at Lekki Lagos. He also owns the recreational center at Oniru, which he jointly owns with ARM and Tunji Olowofe.
Quick Facts About Bola Tinubu
1. Religion
Bola Tinubu is speculated to be a Muslim.
2. He Is The Pillar Of Nigerian's Leading Party APC 
Although Bola Tinubu is just the national head of the APC and not the president of the country, it has been alleged that he dictates what President Buhari does and has attained the level of an untouchable grandfather in the country.
A proof of this is the fact that despite all the rumors of fraudulent activities linked to his name, the EFCC has not gotten around to interrogating him.
3. He Loved His Mother
During his mother's burial, he revealed his love for his mother as he wept profusely. He also revealed that he will miss his mother's presence, prayers, and her food.
4. He Was Once Rumoured To Have Had Some Health Challenges
The former Lagos State Governor was once rumored to be critically ill and was rushed to the United States for an emergency medical treatment. He later returned to Nigeria but was looking sick. His deteriorating health has also been linked to his many trips abroad although this is yet to be verified.