Business
Obi Okeke: The Man Who Went From Nigerian Refugee To Mayweather's Car Dealer
The journey to greatness in life does not have a particular route. It only obeys life principles. No matter where you are now or what you have lost, you can still be great, renowned, famous and whatever else you want to be. This is the story of Mr. Obi Okeke, a Nigerian who left the shores of the country as a refugee, a beggar, but is today a millionaire in dollars, thanks to his car business. Car business? You may exclaim. But relax. You will not have exclaimed the way you did if you knew that Floyd 'Money Man' Mayweather is one of his customers and one who has bought as much as 40 luxury cars, worth millions of dollars from him. Did I hear you say, "Little wonder?"
You are probably aware of the amazing collection of luxury cars that Mayweather boasts of. Mayweather buys cars like most of us buy toiletries. He buys cars every week and can buy a dozen at a go. And the man handed the responsibility of trying to satisfy the "Money Man's" incredible desire for automobiles is none other than Obi Okeke, co-founder of Fusion Luxury Motors.
So the secret is, if you're going to be a car dealer, make sure it's big time cars and make sure you have friends like Floyd Mayweather popping in every other week. For Obi Okeke, who is surrounded daily by high value, million dollar, ultra-modern cars and who has also become a top shot in the luxury automobile industry, it was not a roller coaster ride to the top. And even though he says that his satisfaction is in helping people find their dream cars – which he doesn't collect himself, he has a very interesting story.
Obi came to the United States with his mother as a 5-year old seeking refuge away from the Nigeria civil war which was ravaging the entire country at that time. Obi and his mother moved to Ohio, while his father stayed behind in Nigeria to continue fighting. After the war, he attended a private high school in Switzerland (thanks to the improved fortunes of his family) where he reignited his love for cars, especially European cars.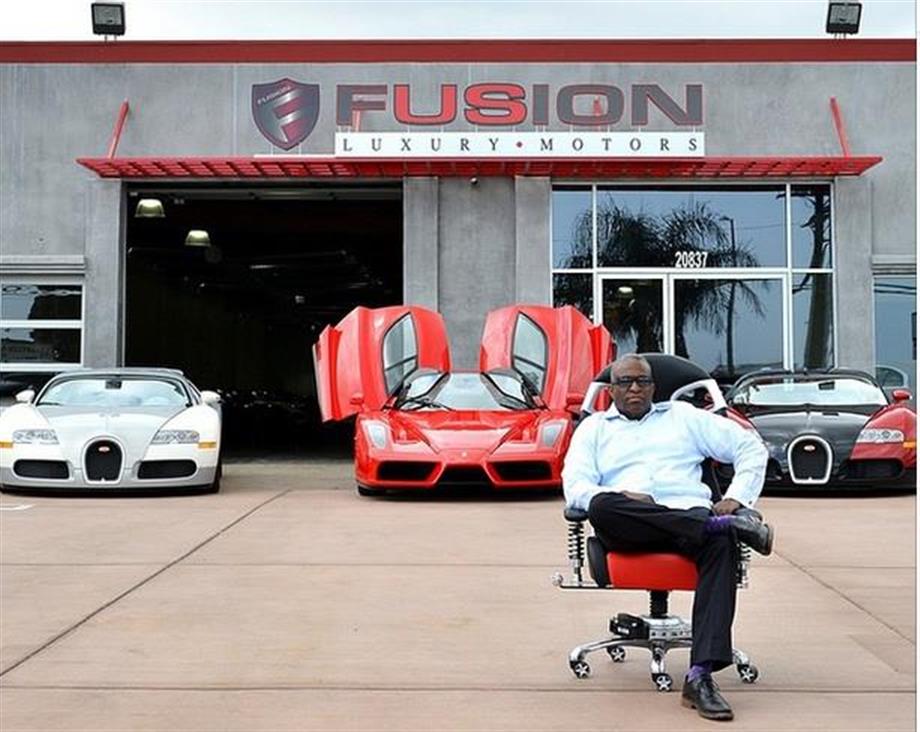 Obi has been enthralled with automobiles from a very tender age. When he went to school in Switzerland at age 13, he knew that the automobile industry would be his life as he watched so many incredible cars carve their way up the mountain passes in the Swiss Alps. He proceeded to learn more about the cars he had come to love by working and managing Factory Authorized Dealerships at various automobile manufacturing companies including Volkswagen, Ferrari, Lexus, Chevy and Dodge. At 21, he acquired his first car – BMW 323i Alpine and was able to turn around and sell the car for a hefty profit. This act would go on to inspire him to take a dive into the world of cars as a business.
Okeke served as the general manager of the Ferrari-Maserati dealership in Calabasas, California for six years. In 2012, he co-founded Fusion Luxury Motors in Los Angeles, with Yoel Wazana. Fusion brands itself as a specialty dealership and gears itself towards car collectors. Fusion Luxury Motors sells a wide range of cars, that are typically valued as low as $50 thousand and as high as $5 million.
Although Fusion Luxury Motors deals with high taste exotic cars which would appeal to superstar celebrities, Obi says he does not have many celebrities as his customer base, although he agrees they come in to look around once in a while. In a career spanning over 25 years, Obi has sold cars to the likes of Arnold Schwarzenegger, Jessica Simpson, Ellen DeGeneres, Chris Tucker and more.
But one celebrity, however, has stuck with him. This is no other but the Money Man, Floyd Mayweather. Obi's relationship with Floyd Mayweather, who he met in 2009 through a friend, has been very successful in the business sense. The 'Money Man' "comes around once a month to see what cars are available" and has purchased 40 luxury cars from Obi's Fusion Luxury Motors. And even though he (Obi) doesn't have a lot of celebrity clients, this one (Mayweather) has turned out good. Floyd's most recent purchase was the $4.8 million Koenigsegg CCXR Triveta. Some of the other top-dollar cars he has sold to Mayweather include a $3.2 million 2003 Ferrari Enzo which he later sold through Fusion, for $3.8 million, three Bugatti Veyrons that are worth $6.2 million combined.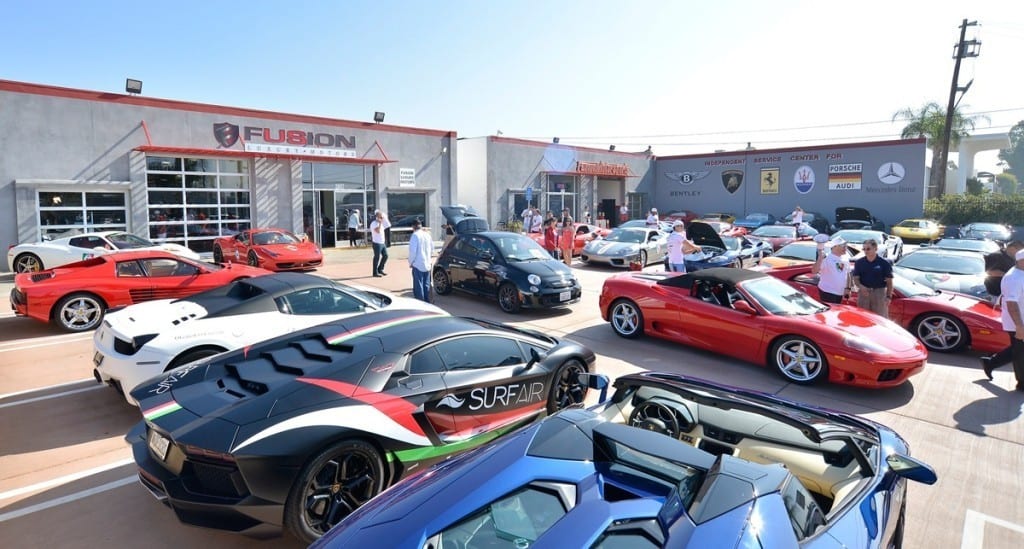 While many dealers get their cars from auctions, Okeke says he has never gone through that route. He gets almost all of his inventory from private parties and a small portion of it from dealers. Obi says that he has "been very fortunate to build a deep client database for finding cars." At first, his dealership could only display five cars, but a year after opening, they moved into a large showroom that can house 45 vehicles.
What sets his dealership apart from others is that he doesn't have to worry about moving cars off the lot quickly, so they don't lose value. "My cars aren't dropping in value. They're going up," he said. Many of his $1 million plus cars sit there for 6 to 18 months, although he did sell a $1.9 million Koenigsegg in less than a month.
The 53-year-old spoke with Automotive News about his life and Mayweather adventures in an interview.
Q: Were you born in the U.S.?
A: I was not. My father is from Nigeria; my mother is from Ohio. I was born in Nigeria. My parents have been married for 57 years. When I was a kid, Nigeria had a civil war, so we escaped from Nigeria as refugees [to Ohio], just my mom and the kids. Then we went back to Nigeria. My parents weren't crazy about the school system. My mom's best friend was in charge of Swissair for Western Africa, so they shipped me off to Switzerland.
Q: When did you first meet Floyd?
A: Back in 2008, 2009. I was general manager of a Ferrari dealership. A business associate brought him to the Ferrari dealership. That was the first time I met Floyd, and then I transacted on two Ferraris with him.
Q: How has your approach to the business changed over the years from working at a Chevy dealership to now?
A: My parents sent me to school in Switzerland as a young child, so I've always been very close to the European cars. And that's why I was with Volkswagen. I tried to get a job at BMW and Mercedes, but nobody would hire me in L.A., so I just took a job with Lexus. And then from Lexus to BMW, Mercedes, Ferrari, Maserati.
Q: How has it changed?
A: I focus a lot more on customer service. My focus is taking care of the client because when you go to a dealership to acquire a car, it's basically they want you in and they want you out. It's a numbers game. I like to focus time on taking care of the clients and spending time with the clients. And trying to do events that may be worth their while or something that might be engaging to them. That's how I view it.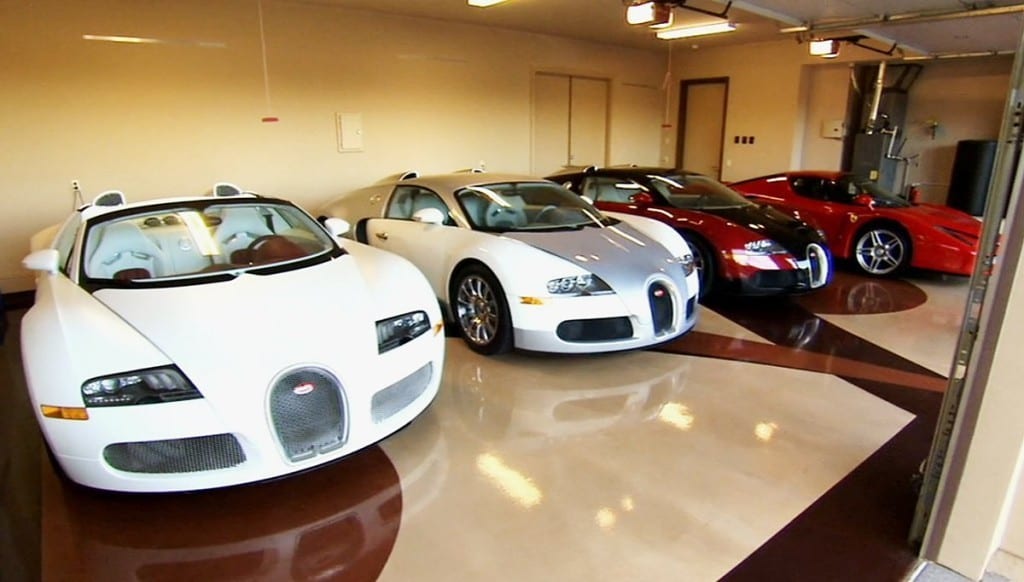 Q: With Floyd, I saw that he called you and said he wanted a Bugatti in 12 hours. That sounds like an impossible task.
A: He called me at 3 in the morning. This was Bugatti No. 2. The second Bugatti I sold him, and he wanted it in 12 hours. This was approximately a year ago [in the lead-up to the first Marcos Maidana fight] because he wanted the car to drive to the gym that day. He wanted a different Bugatti to drive to the gym.
Q: When he called you at 3 a.m., what was running through your head?
A: I was just getting accustomed to receiving calls from him in the middle of the night for the past six weeks. When he called me in the middle of the night, I would just basically keep the phone on. That particular night, when he called me, my wife was like, "Oh, my God, honey, who is this calling you?" I picked up the call, walked downstairs as I'm talking to him, and he told me he wanted a car in his driveway in 12 hours.
I was a little foggy, obviously, I was in a deep sleep. So the first thing I did was I hopped in the shower. You gotta wake yourself up. Got dressed, then I went to my office. I got to my office around 4:45, 5 in the morning… Once I hung up with him, I was just thinking of a strategy of how I'm going to get him this car in that time frame. …
I knew where there were a few cars. I said, well, I need to hop on a plane. I think I took a 7:30 flight out in the morning. I went to a destination that was closest to him that I felt I could get the car to him. When I got there, they weren't open yet. So I went to IHOP, got some breakfast, then I went there and said I want to buy this Bugatti. They thought that I wasn't serious. I called my partner, wired the money. Then the problem was trying to get a truck to flatbed it to his home. That was the biggest problem. The biggest hiccup was trying to find a specialized flatbed. When I called him, I said, "Champ, the problem is going to be getting the car to your house on a flatbed." He goes, "I don't care; just drive it to me." I won't tell you where I was, so I hit the road, and I drove it to him. That's how I got it to him.
On Bugatti No. 3, he called me at around 4:30 in the afternoon, and he wanted that car at his place by midnight. That was feasible because that car was in the L.A. area.
Q: Is that just the life of a luxury exotic-car dealer?
A: He will call me on cars that are $500,000 and up. $1 million, $2 million, $3 million, that's when I'll get the call. I sold him a lot of [Rolls-Royces], and I sold him a lot of Bentleys. I don't know if a franchised dealer is willing to do what I do. I don't know if a franchised dealer is going to be able to take the phone calls in the middle of the night. I don't know if they're going to be able to open up their showroom in the middle of the night for him.
My rule with Floyd is one hour. Floyd will call me and say, "I'm on my way." He'll call me at midnight, 12:30, 1, 2 in the morning and say, "I'm on my way." That means he's on his way to my dealership. The only thing I ask of him is just give me one hour because I've got to get up and get ready and head to the dealership. My dealership is about 45 minutes from my house. He will call me in Las Vegas, sitting on his jet about to take off, and tell me he's on his way. It takes him about 45 minutes to get to L.A. from Vegas. I try to give him service that nobody else will provide.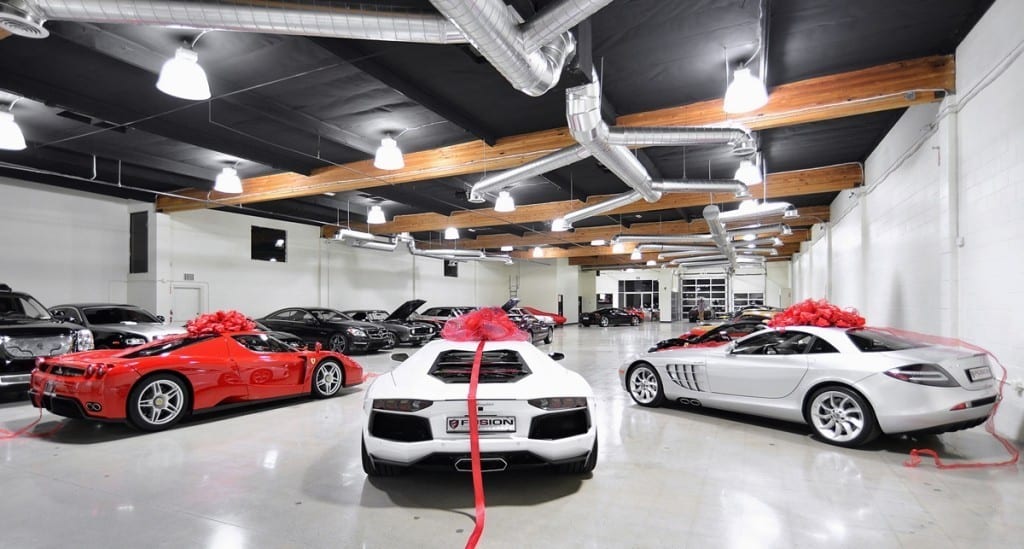 Q: Do you think he's trying to challenge you?
You never know what his next move is going to be. You never know. I don't know if he challenges me, I just know he has high expectations of himself, so, therefore, there are going to be high expectations of everybody around him. There isn't any room for mediocrity at all. It doesn't exist. …
We're in a restaurant at 12:30 at night in Vegas, and we're just sitting there hanging out. He tells the guy to go to my car and get a bag. They get a bag, he goes to the bathroom, he runs out of the bathroom, out of the restaurant and just keeps running! It's his security detail's job to realize he's going jogging [and] to hop in their cars and follow him for 7 miles! It's incredible.
I'm at the Wynn resort in Vegas. He calls me at 12:30 [after] midnight and Vegas is on fire. He says, "Obi, what are you doing?" I say I'm just hanging out. He says, "OK, why don't you come meet me at Fatburger?" I go to Fatburger on the strip, and I hang out with him at Fatburger. From there, we go to his house. We're hanging out at his house. Then these bags start moving around. I said, "Floyd what are we doing?" He said, "Let's go to the gym."
At 3:30 in the morning, he starts heading to the gym. He spars for one hour, killing these sparring partners. And then he runs out of the gym and starts running for 7 miles. I have him on video. He doesn't care what time it is. If he feels the need to do what he wants to do to workout and train, he's going to do it. I don't know if he challenges me or if I'm just in this environment of his and this is just how he operates. It keeps me on my toes. It makes me want to work harder. It makes me think out of the box. I push myself harder. I take it all in stride, and I appreciate the opportunity. I make sure that I do whatever I can possibly do to meet and fulfill his needs and his demands. I view it as a blessing.
Q: I know you said in that video that he forces you to raise your game.
A: Absolutely, I raise my game. It puts me out of my comfort zone. Sometimes we need to be out of our comfort zone.
He's got a residence at the Ritz-Carlton in downtown LA. If he's there for like a week, when he leaves, he will gather every single valet driver, 10 or 11 of them. He will distribute anywhere from $8,000 to $10,000 to each of the valet guys. If you look at Floyd, and you look at the games he goes to, whether the Lakers games, the Clippers games. Whatever game he goes to, whoever's with him staff-wise, they're with him. They all watch the game. He doesn't just buy tickets for himself and then leaves everybody outside. He buys tickets for himself and everybody. He brings them in to watch the game.
I was at his house the other night. I was trying to leave. I said, Floyd, I'll be right back because I hadn't eaten all day." He said, don't go anywhere, let me call my chef." He calls his chef; she comes over an hour later and cooks this big meal for everybody. The guy is an anomaly. I've never met anybody like this man.
Q: Would you think he was a fighter by just looking at his personality?
A: No. His personality, if you hung out with him and you never knew who he was, you would think he was a mathematician or a nuclear physicist. If you just looked at him and looked at his face and just talked to him, you would think that. He always has a strategy. He's a guy with a plan.
Q: Have you thought about opening a store in Vegas?
A: We think about it; we talk about it. Because of where we are in a very remote area, [Mayweather] drives out to the middle of nowhere to see me. I open up in the middle of the night every time. Seventy percent of our cars go out of state, so yeah, we could definitely operate in a place like Vegas. I'm out there five to six times a month right now. Sometimes I'm there three times in a week.
Q: Looking at Mayweather's car collection, do you think that's part of his competitive spirit to have the rarest cars?
A: It's part of his lifestyle. Floyd understands that there are a lot of people who claim to be living a lifestyle they are not living. And he is living that lifestyle. Unlike anybody else, he has no debt. He has no debt on any of his cars and real estate holdings. He has a tremendous amount of cars and a tremendous amount of real estate – and no debt. There are celebrities out there I know, and a lot of people know, that finance their cars and lease their cars. All of their Bugattis are financed and leased. He's got three Bugattis that are all cash. Every car in his garage, all cash. All of the condos he has in Vegas, all cash. Fifth Avenue in New York, cash. Miami, 7,000-square-foot penthouse, cash. LA, cash. The thing about Floyd, he is the only signatory on his account. Nobody manages his money but him. So when I get paid, it's not like we're waiting for the business office. It's all Floyd. He writes the check himself.
Q: Nobody else does that?
A: No. Everybody that I've dealt with, the money was coming from their business office, or [an] agent was going to get the money to me. He is the first celebrity I've met that writes his own check, that manages his own money. I'm not expecting a check from a CPA or an agent or anything. It's from him.
With over 25 years in the Automobile Industry, Obi Okeke possesses the prowess to undertake any high-Level Complex Automobile transaction including large Automobile Collections, as he has accomplished many times over. His approach is fastidious, exercising confidentiality as required by each client, both in the US and abroad.